Description
Programme
Energising and winding down Yoga practicies
Understanding and practicing the Ayurvedic daily routine
Breathwork/meditation/chanting
Getting to know your unique body type and creating a tailormade lifestyle for the same
Discussion on philosphy behind Yoga and Ayurveda
Balancing Ayurvedic massages
Ayurvedia cooking class
Sattvic meals according to your unique constitution (all dietary requirements will be catered for)
Evenings will be fun-filled with a walk in the heritage gardens in Mysore, Satsang, dancing and singing, games, astrology, palm reading and book reading.
On return, up-level with:
Daily practices/dinacharya
Breathing Sadhana or breathwork
Daily yoga postures to suit your body type
Basic home remedies for cough, cold, digestive issues and much more
Knowledge of eating right for your body type
Ayurvedic recipe book
Dinacharya tools to take home (Jai neti pot, Nasya oil, tongue cleaner, body massage oil)
Your Teachers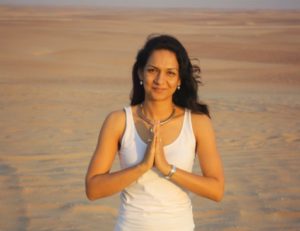 Kavita
Kavita did her formal education in Yoga at The Yoga Institute, Mumbai 17 years back. She soon got absorbed in working on various projects and workshops at the Institute itself. She followed it up with the Advanced Diploma in Yoga from the University of Mumbai. She also went on to specialize in kids yoga from Yoga kids International, Michigan City, USA, and Therapeutic Yoga from the Patanjali Yogapeeth, Hardwar, India. Kavita is certified in Reflexology, Acupressure, and Ayurvedic cooking from the oldest holistic healing institution, the Art of Living. She is certified in Personal Counseling from the Institute of Human Technology, Mumbai, India. Kavita has been teaching Yoga for almost 15 years now; in Abu Dhabi for the last 8 yrs at various YTT, NYU, and Sorbonne University. Corporates, schools, and Yoga studios. Yoga is a "Way of Life " for Kavita.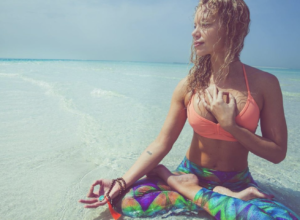 Angela
Angela is an experienced Bodyworker with more than 3,000 international teaching hours. Angela has successfully completed Part 1 and 2 of Karin Locher's Neurofascial Bridge Course which is affiliated with Anatomy Trains (2016-2017).
She has over 500 hours of Yoga teacher training through Power Yoga Germany (200 hrs, 2012), Trimurti Yoga, Yin Yoga (65 hrs, 2016), Jo Phee Yin Yoga, Myofascial Rolling, and Yin Yoga (75 hrs, 2017), Jacqueline Sadek, Heart and Soul of Yoga (250 hrs, 2018). Swadharma Thai Yoga Massage, Basic Massage Practitioner (65hrs, 2019), Debra Silverman Astrology, Applied Astrology 1 and 2 (2020).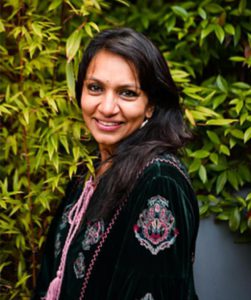 Richa
Her journey for self-discovery started in her teens. She did the Landmark Forum, for personal growth and the Vipassana Meditation course at that tender age. Richa went on to do a Master's in Ayurveda from Middlesex University, London 22 years back. She is intuitive and natural with her understanding of the subject and the pulse of people. Her passion for Ayurveda led her to study with some of the well-known names in Ayurveda in India – Arya Vaidya Pharmacy, Coimbatore, and in the West -Vasant Lad and Claudia Welsh. Other areas of certification are -Reflexology, Reiki, and Acupressure. Richa is currently a practicing Ayurvedic Consultant in London. She also teaches Ayurvedic cooking.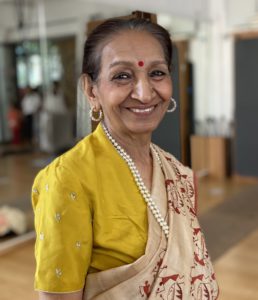 Maya
Maya is a nutritionist and kitchen expert with an MSc in home science from Baroda (India), and 50 years of teaching students about food, Ayurvedic cooking, pranayama, yoga, and meditation. Her heart lies in her kitchen and she loves cooking and feeding. Maya is also a healer. Her guided meditations are just pure magic.