Description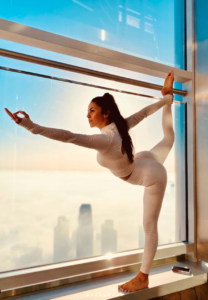 About Amanda Lupia
Amanda grew up as a competitive figure-skater in hopes of one day making it to the Olympics; falling in love with Yoga not much longer after, using it as a tool to stretch and release safely.
These days you will find her teaching in and around Dubai, headlining major events such as the Dubai Expo for almost 200 people, or teaming up with esteemed brands like Chanel. 
But don't let that take away from the real essence of Yoga.  To Amanda, the emotional connection to yoga is a heartfelt duty to share the practices that are helpful to her, in case they're helpful to others. Sharing this beautiful practice of Yoga, both in English and Sanskrit, with so many people has helped guide her to a deeper sense of self and the world around her. 
She believes that teaching yoga is another way of saying "I love you" to total strangers. You're using your bodies to find that common ground and language of love, and nothing is lost in translation. By the end of class, something is different. You're no longer strangers. 
Influenced by her teachers, peers, environment, and travels Amanda aims to bring a unique sense of empowerment to each of her classes. Through intention, meditation, pranayama, and asana her goal is to have students leave each class feeling refreshed and renewed. She teaches in a way that provokes thought and meaning, letting the students experience for themselves through careful planning and energy reading.
Amanda is 200RYT certified through Zuna Yoga in Bali in the style of Hatha-Vinyasa. Teaching yoga for kids is a passion for her. She is a qualified kids yoga and mindfulness teacher where she makes yoga fun and approachable, from toddlers to teens.