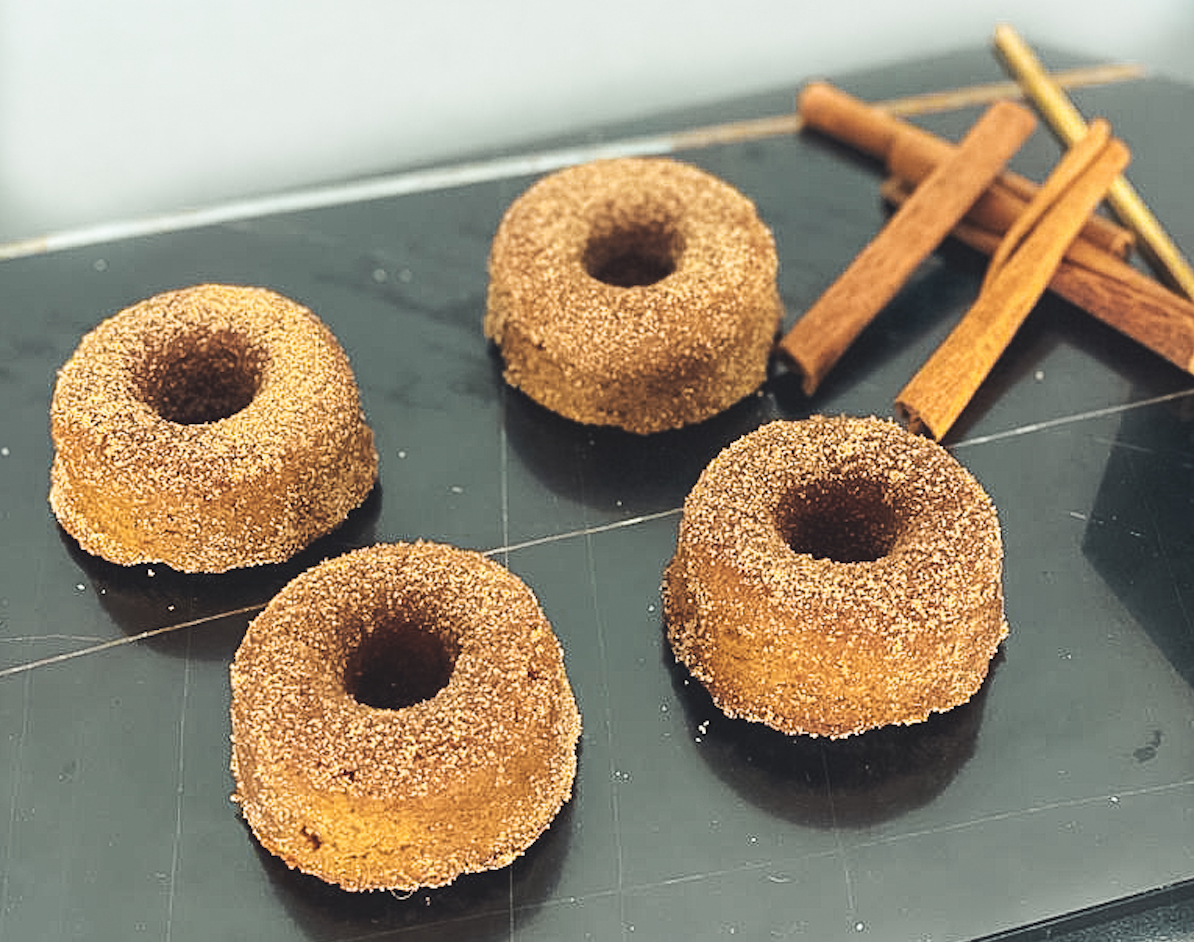 Recipe: Keto Fall Pumpkin Spice Donuts
Created by Nadia Sehweil
These donuts are the perfect treats for fall. I try to keep my sugar intake very low and avoid both refined & unrefined sugar as often as possible. Baking with Lakanto Monkfruit sweetener can be tricky but with the right mix of ingredients you can avoid the metallic taste. These donuts are a great treat, satiating and won't spike your blood sugar levels and mess with your hormones! The pumpkin adds a nice healthy kick, and the cinnamon and spices are a great way to balance your blood-sugar levels. Hope you enjoy as much as I do!
Love, Nadia x
Donut mix:
2 ½ cups finely ground almond flour 
¼ tsp aluminium free baking powder
½ tsp baking soda
¼ tsp Himalayan salt
2 eggs separated
¼ cup unsalted butter (I love Kerrygold butter), melted & cooled to room temperature 
¾ cup organic pumpkin puree (I prefer fresh pumpkin over canned.  Steam fresh pumpkin, cool then puree)
½ tsp alcohol free vanilla extract
2 tablespoons Lakanto Monkfruit Sweetener (or use monkfruit/erythritol of choice)
1 tsp ground cinnamon
¼ tsp ground nutmeg
¼ tsp ginger powder
1/8 tsp allspice
1/8 tsp cloves
For the coating:
¼ cup Lakanto Monkfruit Sweetner – Golden 
1 tsp cinnamon
Avocado oil to cover the donuts
Instructions:
Heat oven to 190 ºC.
Lightly butter the donut pan.
Whisk together almond flour, baking powder, baking soda & salt then set aside.
Whisk egg whites until they get very thick & foamy with an electric mixer.
In a large bowl, whisk together the 2 egg yolks, butter, pumpkin, vanilla extract, spices & monkfruit until smooth.
Fold the egg whites into the egg yolk mixture.
Gently combine dry ingredients to the egg yolk mixture.
Spoon the mixed batter into the donut pan.
Bake for approximately 15 mins until donuts are lightly browned on top and a toothpick inserted comes out clean.
Allow donuts to cool for 10 mins in pan before removing then place on a wire rack to continue cooling.
For the topping: In a small bowl mix the Lakanto Golden sugar & cinnamon. Spray or lightly coat each donut with avocado oil then roll each donut in the mixture.
Serve & Enjoy!
Notes: 
I source my Lakanto products on iherb.com.
Make sure you're sourcing a pure avocado oil that isn't mixed with any other oils or junk!
If you'd rather opt for a Paleo option you can use coconut sugar instead of monkfruit. I prefer the health benefits of a sugar free dessert.